OnOne Updates Perfect Photo Suite to 6.1
OnOne Software has updated it's perfect Photo Suite to 6.1
. It is a free update for 6.0 Users.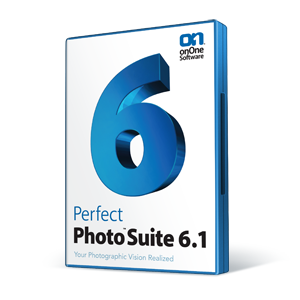 Here are there updates.

Improved Refine Brush
Rebuilt for improved results, the Refine Brush in Perfect Mask now better recognizes soft edges, like hair and trees, so you can make your edges more defined between your foreground and background.
New Color Spill Brush
Remove unwanted reflected or transmitted colors with the new Color Spill Brush in Perfect Mask to ensure all areas of your image reflect their true colors.
Enhanced Brushing Performance
Experience faster, smoother and more responsive brushing functionality, including improved opacity control with Wacom tablets and reduced brush stickiness, that allow you to create high-quality and natural looking masks with just a few strokes.
Retouch Portraits with Faster Tools
Images and presets now open faster in Perfect Portrait, and the automatic detection of smaller faces has been improved, so you get to the task of retouching your portraits more quickly.
Visual Tips to Get You Started Faster
Getting Started tips show you the key tools to use when you open each module, recommending the first steps to take to start realizing your photographic vision.
Select Your Performance Preferences
Now you can optimize the Perfect Photo Suite's memory usage and undo behavior to match the resources of your computer.
Additional performance updates
Improved panning speed and responsiveness

Updated Raw processing library, added support for 35 more cameras

Ability to change thumbnail size in matrix view on the browser

Improved tool tracking when interacting with other controls

Improved speed when using as a Photoshop plug-in

Improved preview quality at all zoom levels

Added mask thumbnail to Stack in Perfect Effects

Perfect Mask Pen Tool greatly improved for classic use

Borders in Perfect Effects now scale non-proportionally to fit the image better

I love how this company does business. The 64 bit versions of their plug ins were free, and they keep releasing either free versions of plug ins or making some of them completely free. This is a company that not only loves it's customers, but knows it's whole suite is good enough that it is worth giving away stuff for free since it will make enough sales.
See Older Posts...